The spectacular thing about a leather jacket is they are not short-lived trends, they just never go out of fashion. Add your leather jacket collection to your will for your children to have. These are the leather jackets you should have in your closet at all times and at all cost, otherwise, you cannot call yourself a true fashion diva.
Leather jackets are super versatile and on top of that, they come in an interesting variety of different shapes, styles, and colors. Everyone will find something they will cherish for the rest of their lives in this list.
Leather Blazer
Leather blazers are being revived back into popularity, all the models and celebrities are going coo-coo over them, even more so than the classics, Biker and the Moto. It gives you an overall professional, formal, and chic look. Leather blazers tone down the extra formal look when paired with formal articles like dresses. A lot of celebs pair this phenomenal jacket with mini dresses and knee-high boots. Oversized blazers are all about flowy, loose-fitted up-scale fashion.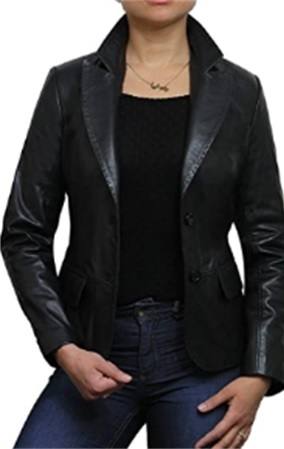 Bomber Jacket
Bomber jackets are a classic like an aviator or biker leather jackets. They have gone more mainstream in recent years. Bombers can never go out of style and this might be the only leather jacket that you can style for all 4 seasons. The great thing about bombers jacket is they are quite comfy as you can tell by looking at them, you don't have to compromise comfort over style unlike in other women leather jackets. Oversized bombers are the epitome of comfy cute. On the other end of the spectrum, cropped bombers are also in vogue, you can wear them with off-the-shoulder, on top of dresses, or pairing it with a cute crop top and fitted pants also looks very chic.
Suede fringe jacket
The intended purpose of the fringes was to save leather and so that the water can run off the jacket more quickly, however it turned out to be an iconic fashion piece. Suede jacket mixes up things, it brings more depth. It is way more fun than your average leather or denim jacket. You can go for the country, Mexican, sophisticated, or an ultra-modern look; suede fringe jackets are all over Instagram! Unexpectedly enough black fringe jacket gives quite the gothic look. The possibilities are endless.
Shearling leather jacket
It's a timeless treasure, a foresighted investment that'll pay off until it rips, in other words for eternity. Moreover, it's practical and fancy at the same time; you don't have to make any compromises. The beautiful wool lining inside will keep you cozy. Shearling leather jackets come in a variety of different styles, shapes, and colors; the reason why they look fab with any outfit. Long shearling coats go exceptionally well with short dresses and knee-high boots. Shearlings are also paired quite well with turtle necks and sweaters; and yes they don't have to go with simple muted outfits only, they can be dressed quite funkily or you can go retro with flared pants. You can compare nothing to shearlings they're a category of their own.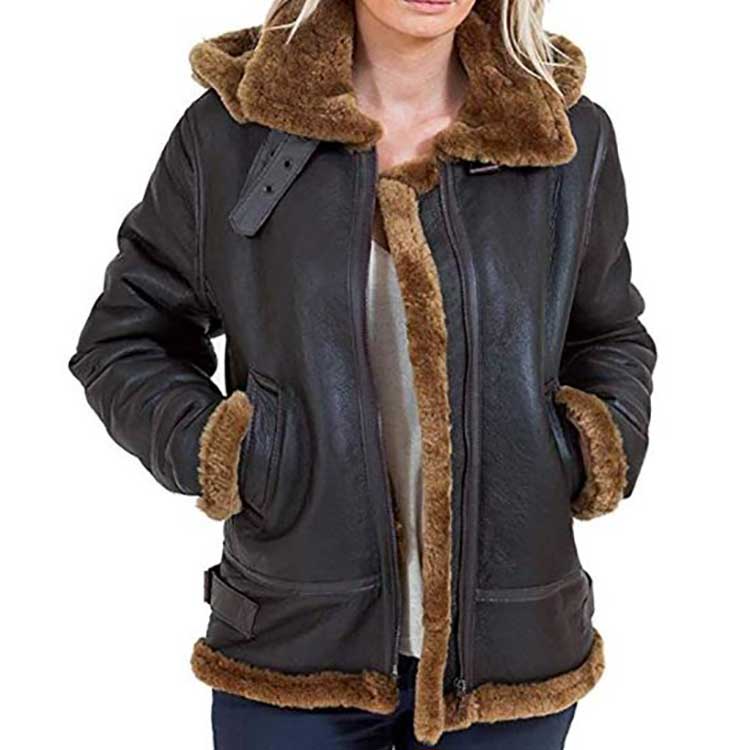 Glossed leather jackets
Glossed leather jackets speak for themselves, there is not much to say. This classy jacket emanates confidence and boldness; you look like someone who knows about style. That glossy finish exudes class. You can go for a street smart look with an oversized, studded glossy leather jacket. Go for classy colors like emerald green, maroon, and black.
Scuba leather jacket
If you are someone who likes to dress minimally and sophisticatedly, look no further this is exactly what you need to have in your minimalist wardrobe. Scuba jackets have a very clean, simple look and usually come in dark classy colors like black and brown. A tee, jeans, and a white pair of sneakers are all you need to complete your minimalist outfit.
Here are a bunch of spectacular leather jackets for women that you can select from. Your wardrobe will thank you for these luxurious articles that will stay with you in the long run. These high-quality jackets will offer you the ultimate comfort and optimal class. Embrace these sleek jackets with your everyday outfit, and walk around with sass like a queen.